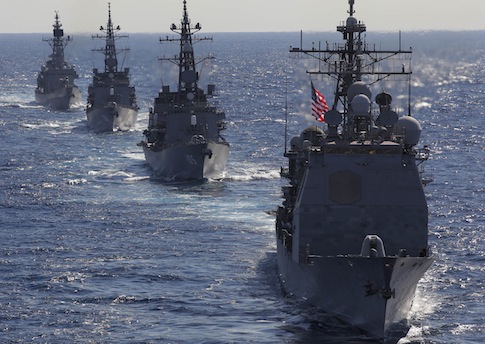 Landing ship sailed dangerously close to U.S. guided missile cruiser
A Chinese naval vessel tried to force a U.S. guided missile warship to stop in international waters recently, causing a tense military standoff in the latest case of Chinese maritime harassment, according to defense officials.
The guided missile cruiser USS Cowpens, which recently took part in disaster relief operations in the Philippines, was confronted by Chinese warships in the South China Sea near Beijing's new aircraft carrier Liaoning, according to officials familiar with the incident.
"On December 5th, while lawfully operating in international waters in the South China Sea, USS Cowpens and a PLA Navy vessel had an encounter that required maneuvering to avoid a collision," a Navy official said.
"This incident underscores the need to ensure the highest standards of professional seamanship, including communications between vessels, to mitigate the risk of an unintended incident or mishap."
A State Department official said the U.S. government issued protests to China in both Washington and Beijing in both diplomatic and military channels.
The Cowpens was conducting surveillance of the Liaoning at the time. The carrier had recently sailed from the port of Qingdao on the northern Chinese coast into the South China Sea.
According to the officials, the run-in began after a Chinese navy vessel sent a hailing warning and ordered the Cowpens to stop. The cruiser continued on its course and refused the order because it was operating in international waters.
Then a Chinese tank landing ship sailed in front of the Cowpens and stopped, forcing the Cowpens to abruptly change course in what the officials said was a dangerous maneuver.
According to the officials, the Cowpens was conducting a routine operation done to exercise its freedom of navigation near the Chinese carrier when the incident occurred about a week ago.
The encounter was the type of incident that senior Pentagon officials recently warned could take place as a result of heightened tensions in the region over China's declaration of an air defense identification zone (ADIZ) in the East China Sea.
Gen. Martin Dempsey, chairman of the Joint Chiefs of Staff, recently called China's new air defense zone destabilizing and said it increased the risk of a military "miscalculation."
China's military forces in recent days have dispatched Su-30 and J-11 fighter jets, as well as KJ-2000 airborne warning and control aircraft, to the zone to monitor the airspace that is used frequently by U.S. and Japanese military surveillance aircraft.
The United States has said it does not recognize China's ADIZ, as has Japan's government.
Two U.S. B-52 bombers flew through the air zone last month but were not shadowed by Chinese interceptor jets.
Chinese naval and air forces also have been pressing Japan in the East China Sea over Tokyo's purchase a year ago of several uninhabited Senkaku Islands located north of Taiwan and south of Okinawa.
Related articles